Jimmy works as a Quality Control Inspector Specialist for this state of the art, world's First Class Best Canadian Flight Simulator Manufacture Company and Pilots Training Program in the world, CAE. Jimmy's community work has been well-recognized by CAE and featured him in their newsletter:
CAExpress #129 – June 11 2020 / 11 juin 2020

People from CAE doing good in their community
Over the past few months, we have had the privilege of introducing you colleagues who are contributing in one way or another to their communities at a time when it is truly needed. Today, we highlight the good deeds of two more members of our team.
When she saw the impact the pandemic was having on some of the most vulnerable people in her community, Sophie Bates and her neighbors jumped into action. A staggering number of job losses and an overwhelmed social security system left many people unable to feed their families, so she organized a food drive and donated what she collected to a local church. But this wasn't a one-time thing. Next month, she will collect much-needed personal hygiene and cleaning products for those in need.
Jimmy Chan from CAE Montreal is also giving back in many ways. He brought together drummers from around the world for a special performance called Drumming for Hope, as a tribute to frontline workers. He is also supporting frontline workers by providing meals from his family's restaurant to hospitals around Montreal. In addition, Jimmy is also checking-in on more vulnerable members of the community to ensure they have enough to eat – and using unconventional methods to deliver meals while social distancing. Check out Jimmy's efforts in this video.
Sophie's and Jimmy's volunteer work and donations are a great example of the difference we can make in our communities, and we are sure there are many others doing the same. If you or a colleague are doing something to help during the pandemic, send it to communications@cae.com, we'd love to highlight it here.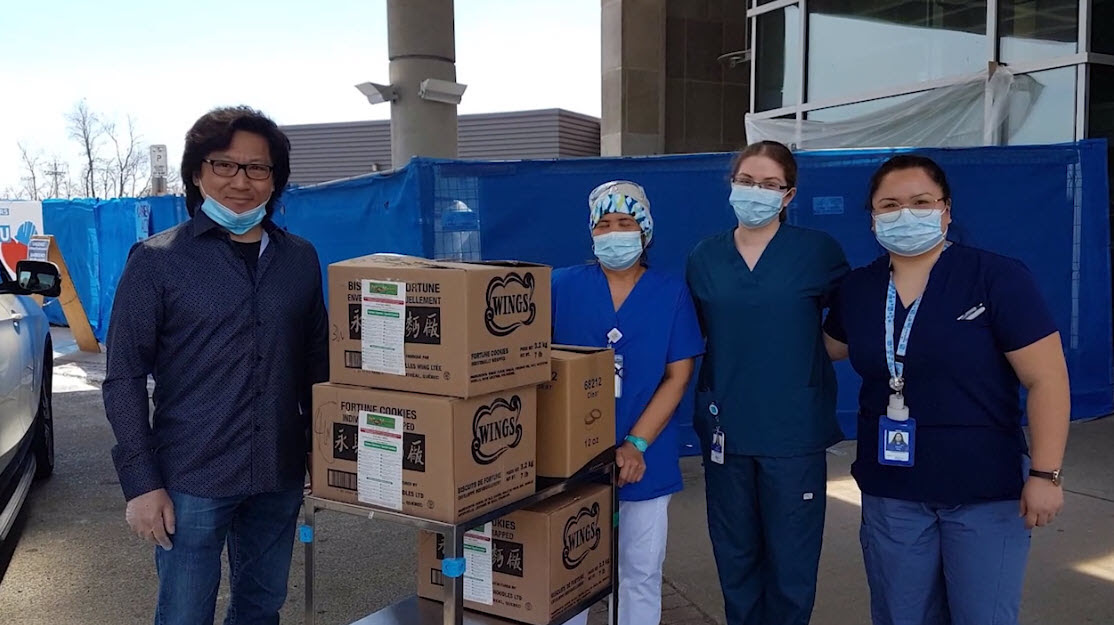 Besides this, the CEO of Jimmy's company Marc Parent donated $100,000 to the McGill University Health Centre. Jimmy is very proud to be part of such a generous company.