Jimmy Chan organized an event to raise funds for the victims of the Haiti Earthquake. The event took place at the Montreal Chinese Community & Cultural Center.
Jimmy Chan's event raised over $25,000 for RED CROSS to aid in the the Haiti Relief!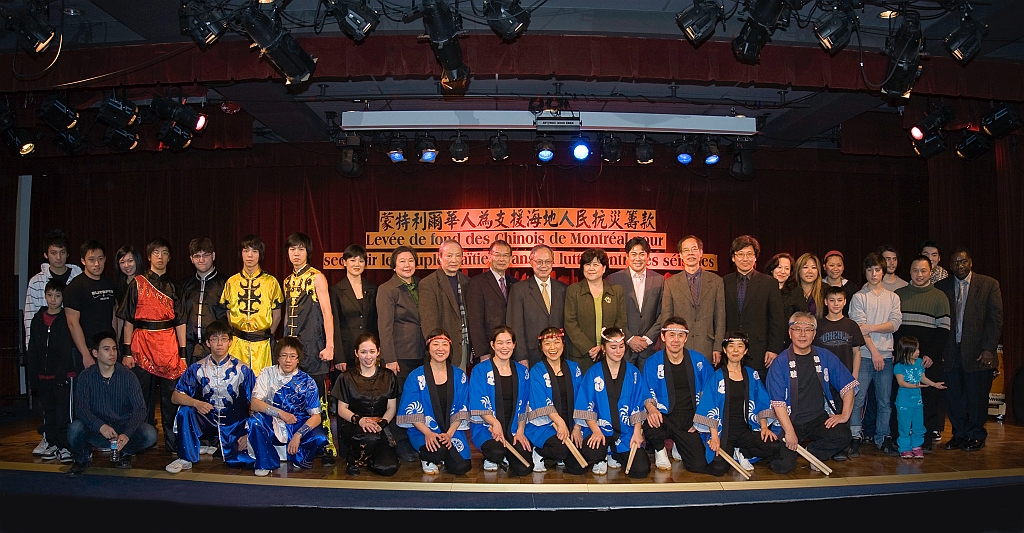 It was a very successful fundraising on Sunday January 31st, 2010. It took Jimmy Chan one week to organize and produce the entertainment show for the fundraising event, and to sell all the tickets. The results of his efforts were beyond expectations!
Over 400 guests attended the event. This was the biggest multicultural fundraising event that ever took place in the heart of Montreal's Chinatown. It was a full house! As everyone witnessed, people kept coming. There were no more seats left for many people, and it was a very heartfelt situation. Government figures also attended the event to support Haiti!
Everyone witnessed all the young performers' talents and togetherness from different communities that made this event so successful. Among all, the effect to break the cultural barriers to bring all different communities together. Many different cultures make the global picture so rich and colorful !
That evening, how wonderful it was when we all witnessed our provincial Depute de Viau Mr. Emmanuel Dubourg dancing over Haitian folklore played by Cubans, Brazilians, Uruguayan, Nigerian drummers.
On the night of the fundraising event, each person who donated received recognition by having their name announced on the event. With all of your generosity, no matter what the amount was, it all added up and was all handed to Red Cross to purchase medical supplies, food and water for Haiti to make sure that the $25,000 will be used to help all the victims.
This is only the beginning of the good cause. There is more to come. In Jimmy Chan's heart, this is generating so much energy to move forward for his next fundraising event later on in the year with his fundraising team, "One World, One Humanity"!
As Jimmy said, we do not need a disaster like this to bring people together. It is important to pick up people who fall. Show them that we care. We must take care of our planet. The planet earth that we all live together on. It doesn't matter where we come from, we are all the same together. To help one another and care is our mission in life.
Two years ago, when Jimmy did the fundraising event at our Chinese Cultural Center to raise funds for the earthquake victims in Sichuan China, raising $10,000. The whole world at that time came together to aid the victims, to rebuild their homes and schools.
Representatives from the Haitian community in Montreal presented a plaque of friendship and thankfulness to Jimmy Chan in appreciation for his heartfelt contribution: